Cheesy Garlic Bread Sticks / Cheese and Corn Stuffed Garlic Bread Sticks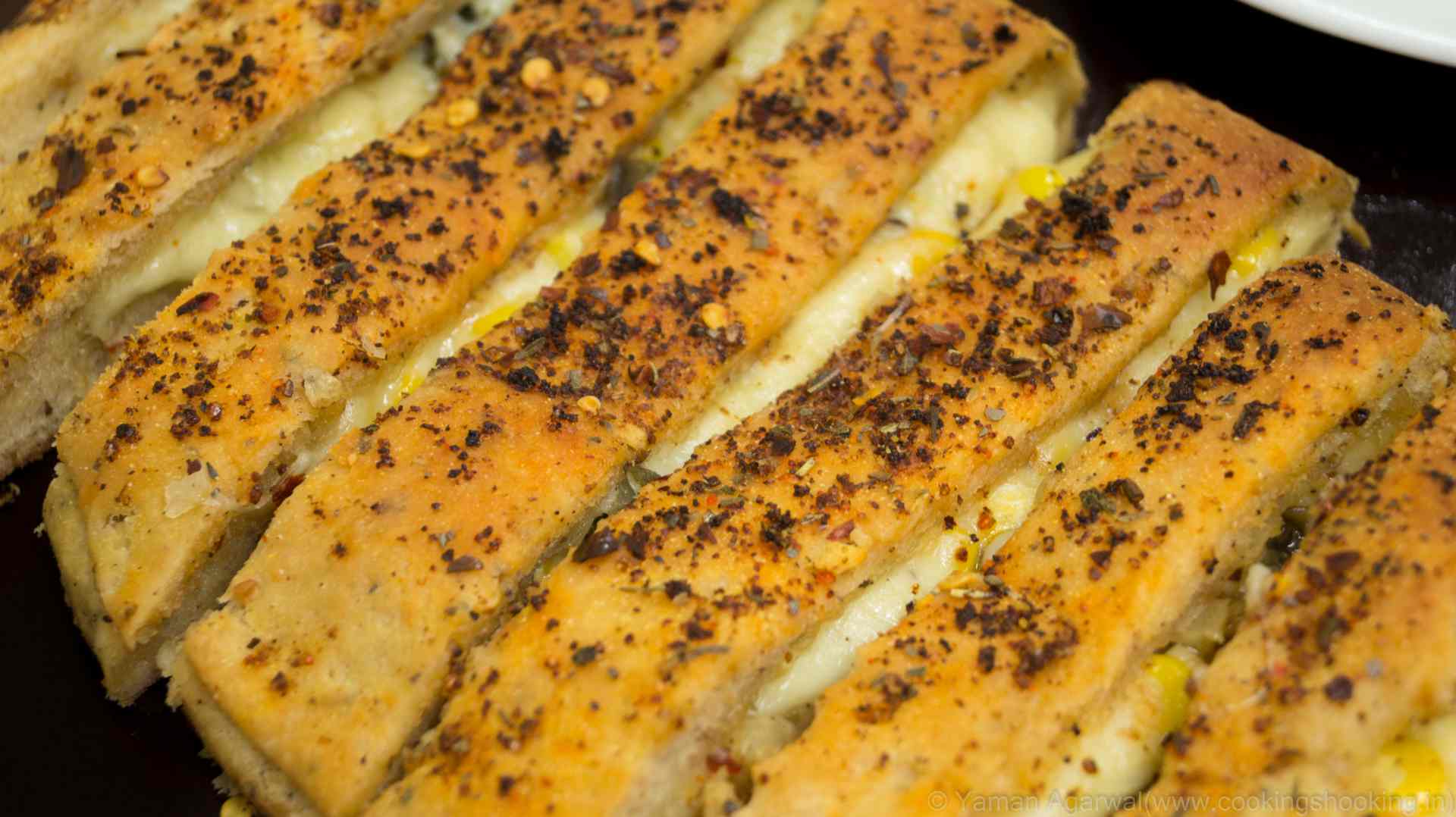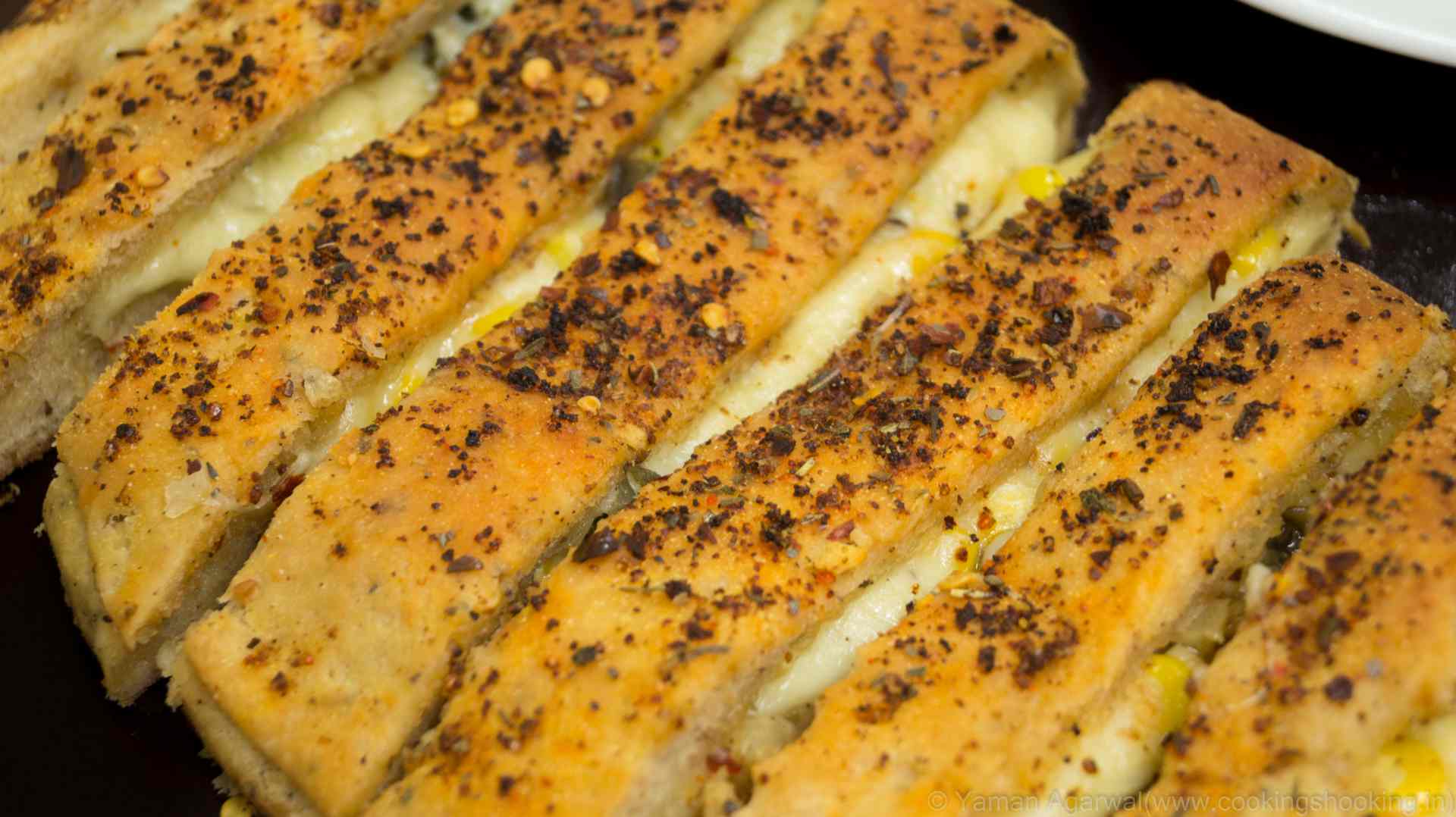 Cheesy Garlic Bread Sticks / Cheese and Corn Stuffed Garlic Bread Sticks
INGREDIENTS:
Instant Yeast - 1/2 tsp
Warm Water - 1/2 cup
Sugar - 1 tsp
Maida / Plain Flour - 1 1/4 cup
Garlic - 8 - 10 finely chopped
Garlic Powder - 1/2 tsp
Onion Powder - 1/4 tsp
Salt - to taste
Oil - 2 tbsp
Oregano - 1/2 tsp
Basil - 1/4 tsp
Thaeen - a pinch
Water - to knead
For Spice Mix
Salt - 1 1/2 tsp
Black Pepper - 3/4 tsp
Oregano - 1 1/2 tsp
Garlic Powder - 1 1/2 tsp
Onion Powder - 1/2 tsp
Basil - 1/2 tsp
Rose merry - 1/2 tsp
Thaeen - 1/2 tsp
Chili Flakes - 1 1/2 tsp
Kashmiri Red Chili Powder - 1 tsp
Amchur / Dry Mango Powder - 1/2 tsp
Other Ingredients
Mayonnaise -
Cheddar Cheese -
Sweet Corn Kernels -
Jalapeno -
Mozzarella Cheese -
RECIPE STEPS:
For the dough
add the yeast and sugar to 1/2 cup water and keep aside for 10 mins.
In a mixing bowl, add all the rest ingredients and mix well add the yeast and water mix and make a dough if needed add more warm water. Knead the dough for 5-6 mins.
Place the dough in a greased bowl and cover with a damp towel/cling warp and let it prove for a hour or until its doubled.
For Spice Mix - Add all the ingredients in a mortar-pestle and pestle it down until well combined and grounded for about 10-12 mins.
For making the breadsticks - After the dough has proved, take it out and place it in a corn meal dusted surface and knead for a minute or two.
Roll the dough out to 26cm diameter in a corn meal dusted surface.
Spread mayonnaise in one side of the dough(in a semi circle way), get some cheddar cheese in, followed by sweet corn kernels, jalapenos, a little of spice mix and mozzarella cheese.
Apply water in the edges and fold over. Press down the edges. Something like a calzone it is so far.
Transfer this to a tawa/pizza tray which is very well greased with butter. Make slits in the bread at 1 inch difference to make the slits but just make slowly and dont go to the bottom.
Take butter and grease the bread with it. Sprinkle the spice mix over and a little of oregano.
If you like more of bread structure, let it rest for 25-30 mins before baking. Otherwise bake it right away at 200 C in a preheated oven for 20-25 mins or until its well baked.
Give your temptations a wait of 10 mins before slicing.. Slice and serve..
RECIPE NOTES :
I usually add the spice mix in the dough instead of adding the oregano, basil, thyme, chili flakes. Works both ways and taste awesome both ways.