Eggless Chocolate Cake in Microwave(Less than 5 mins) With Hand Whipped Amul Cream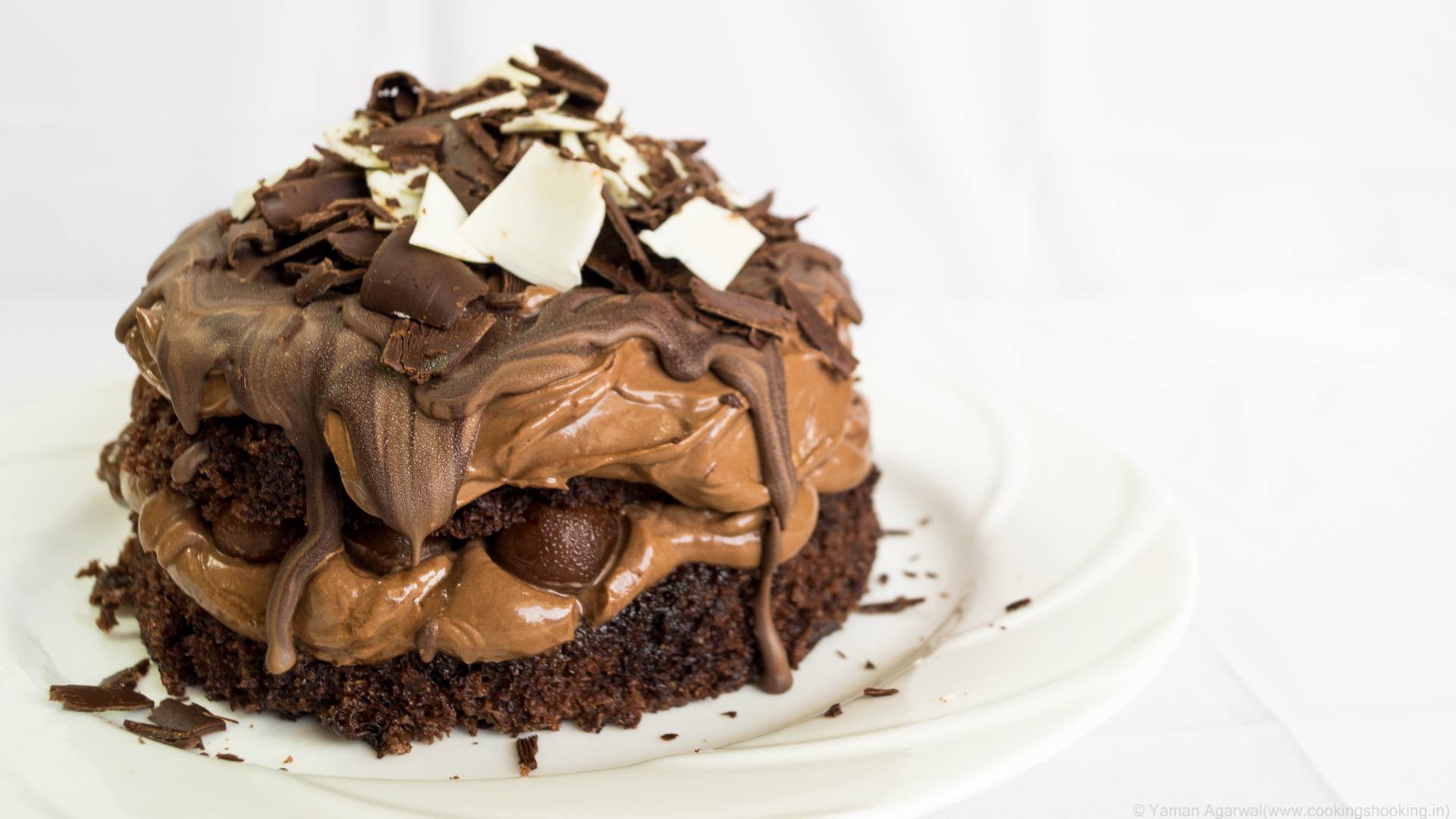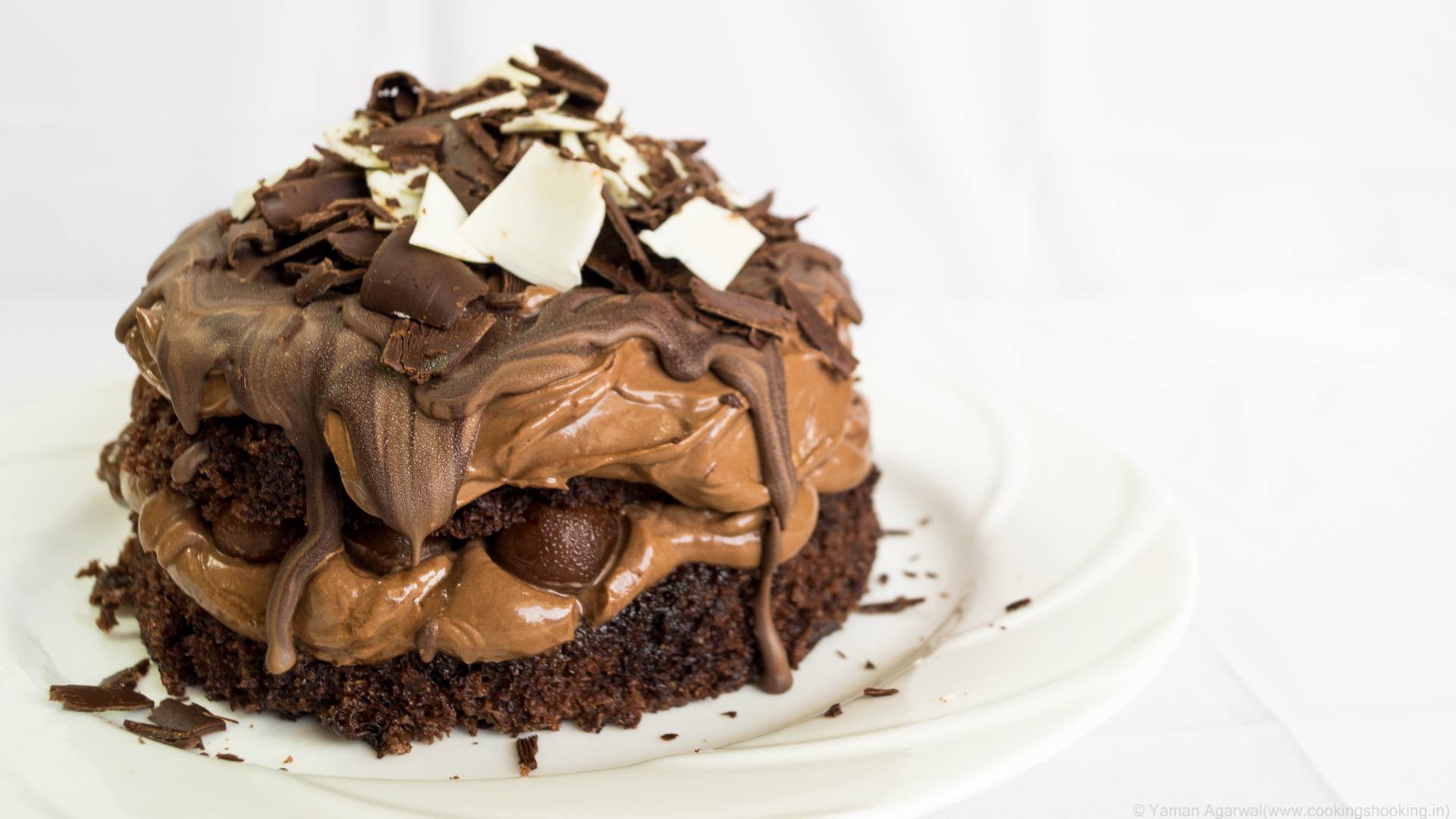 Eggless Chocolate Cake in Microwave(Less than 5 mins) With Hand Whipped Amul Cream
INGREDIENTS:
Milk - 3/4 cup
Vinegar - 3/4 tbsp
Vanilla Essence - 1/2 tsp
Oil - 3 tbsp
Powdered Sugar - 3/4 cup
Maida/Plain FLour - 3/4 cup
Corn Flour - 1 tbsp
Cocoa Powder - 2 tbsp
Baking Soda - 1/2 tsp
Whipped Cream - 400 ml
Dark Chocolate - 150 gm
Chocolate Shavings - to garnish
For Chocolate Syrup
Sugar - 3 tbsp
Water - 3 tbsp
Cocoa Powder - 1/2 tsp
RECIPE STEPS:
In a bowl, add the milk, vinegar, vanilla essence, and oil and mix well.
To a mixing bowl, add the flour, powdered sugar, corn flour, cocoa powder, baking soda and whisk to combine altogether.
Pour in the wet mixture to the dry and whisk well.
Grease a silicone cake tin / bowl of 6-7" diameter with oil. Pour the batter in.
Microwave the cake for 5 minutes. My was done in 4:30 minutes and my microwave is of 800watts. Check with a toothpick at about 4:30 if comes out clean, cake is ready. If not microwave for another 30 second.
Take the cake out and let it cool to room temperature. If you wish to serve the cake as it is without cream, you can do it warm as well.
For Icing, Refrigerate the 2 packs of cream for atleast 24 hours. DO NOT SHAKE THE PACK AT ANY POINT.
Snip the top off, and scoop out the thick cream. Usually the cream is separated in the pack like thick cream on top and whey/thin cream in the bottom on the pack. Carefully take the thick part and add to a bowl which has been kept in freezer for 15 mins.
In a bigger bowl, add some ice cubes and a little water and then place the bowl with cream. Start beating the cream to form peaks. It will take about 20 minutes to reach the thickness.
Add powdered sugar and keep aside for a moment.
Place 150g of dark chocolate in a microwave safe bowl and microwave it for 30 second, stir and repeat until completely melted.
Once melted, keep aside till it cools off to room temperature.
Add a little bit of cream to the chocolate and stir generously. Now add the chocolate mix to the cream and whip very well till its stiff enough. Refrigerate until ready to use.
For Assembling - Take a turntable/place a big plate over a bowl. Place the cake, and slice the cake into two layers, keep aside.
Mix 1/2 tsp cocoa, 3 tbsp sugar and 3 tbsp water and microwave for 2 mins. Let it cool to room temp.
Place one layer of the cake in the turn table, smear the syrup and then add some cream. For easier application, i added my cream to a piping bag, then piped it.
Scatter cherries, and place the another layer. Smear syrup and clot some cream and spread using a spoon for rustic homemade look!
In a piping bag, add the dark and white chocolate and just put in a spoon/fork and take out to make a marble effect. If the chocolate is too fluid and warm, it will just pour out if you snip the tip of.. So just refrigerate the piping bag for 5 mins or wait for the chocolate to get a little cold and thick before adding to the piping bag.
Snip the tip off the piping bag and pour the chocolate over the edges of the cake for that dribbling effect!
Take dark chocolate for making shavings about 50 g, and peel it using a peeler to make shavings, Similarly do it with white chocolate. Scatter this over the cake and ENJOYYYYY!
RECIPE NOTES :
Note in Regard to the Stabilizing Amul Cream.. Make sure the cream is atleast whipped to soft peaks or thick enough as shown in video. Also make sure the chocolate is NOT warm/hot else it wont work. Cream should be cold.