Eggless Fresh Fruit Cake / Fruit Pastry Recipe - Pressure Cooker Cake | Eggless Baking Without Oven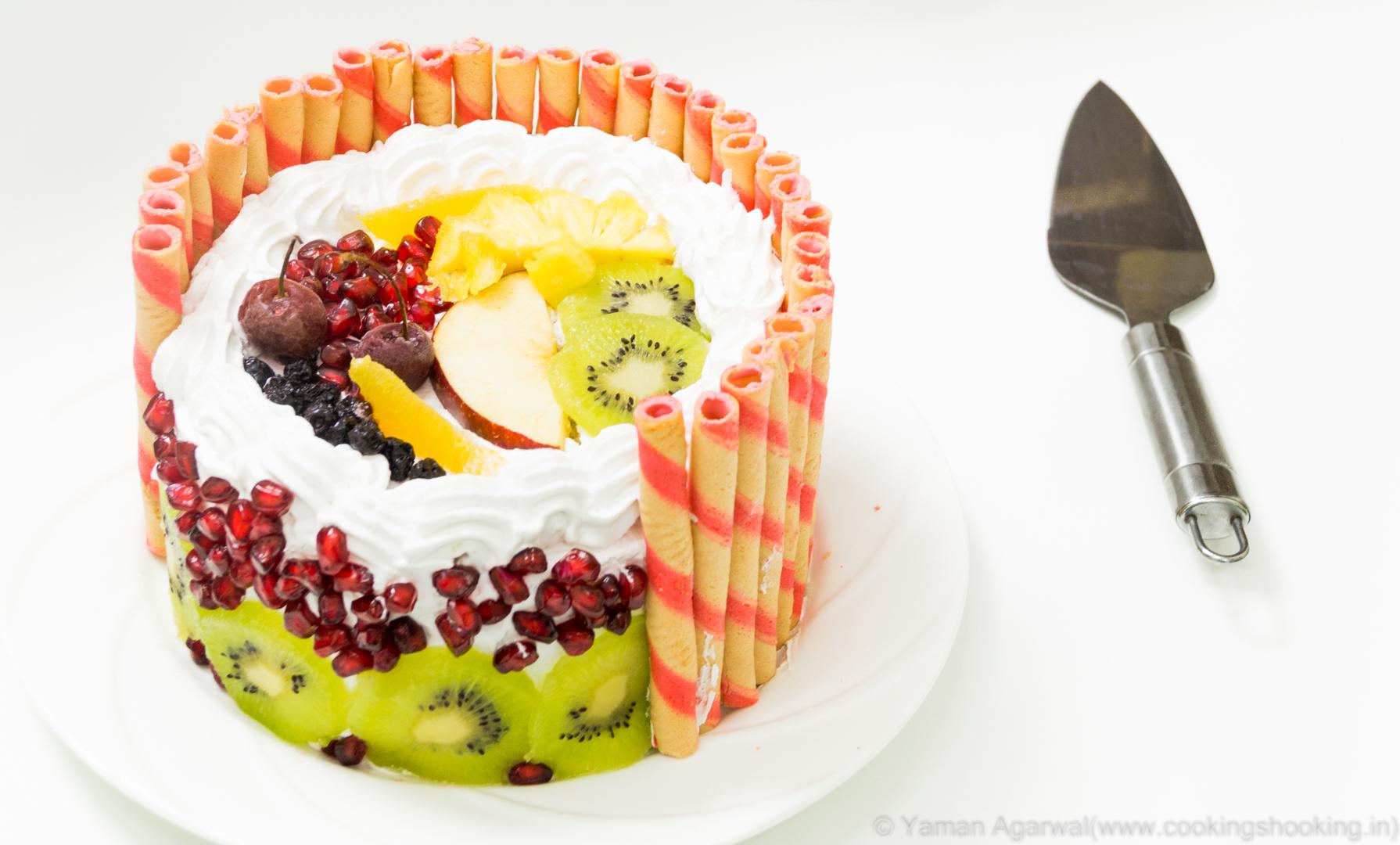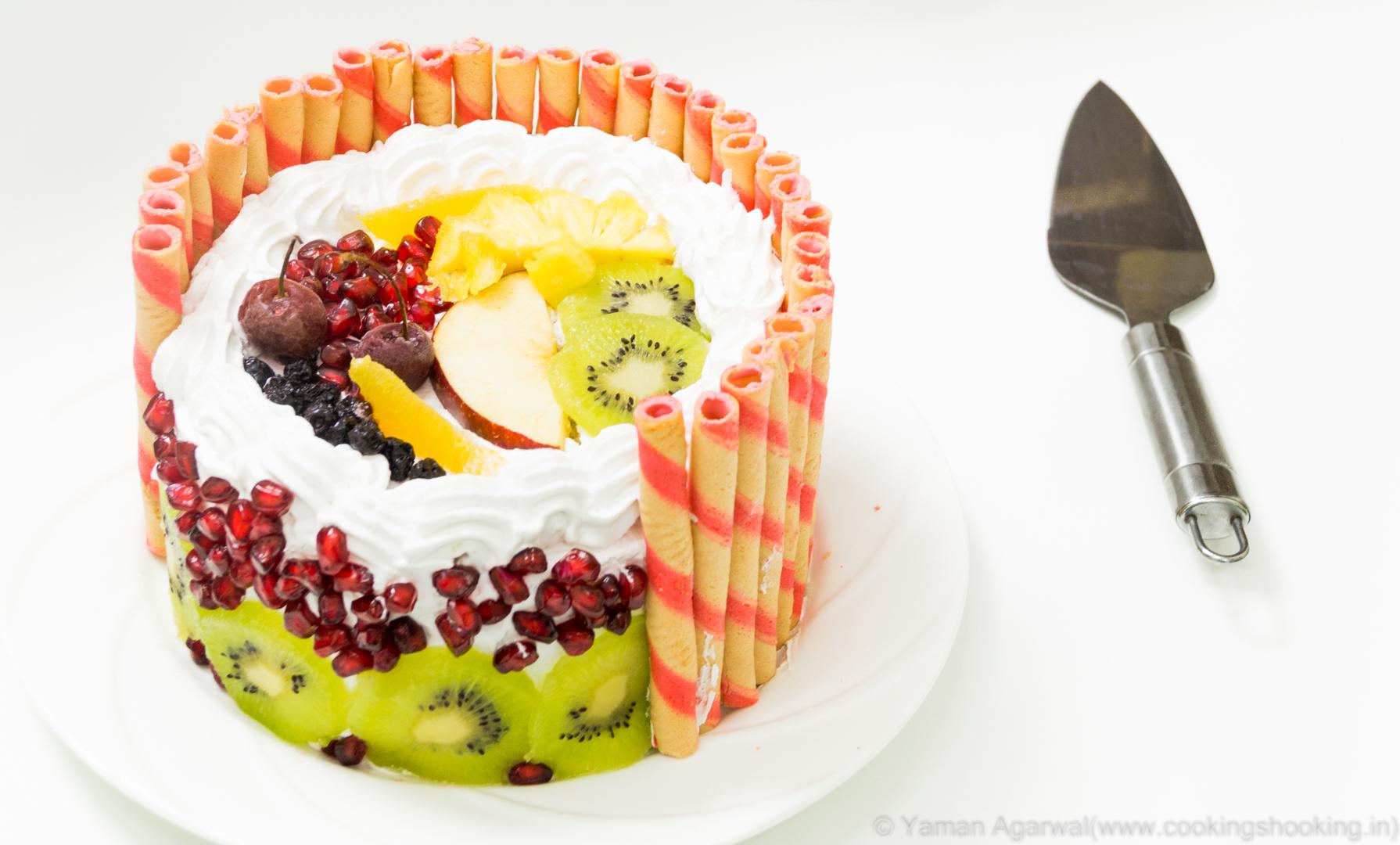 Eggless Fresh Fruit Cake / Fruit Pastry Recipe - Pressure Cooker Cake | Eggless Baking Without Oven
INGREDIENTS:
For Cake Sponge
Salt to bake - 1 1/2 cups
Butter (at room temperature) - 1/4 cup
Powdered Sugar - 1/4 cup
Condensed Milk - 1/2 cup
Fresh Cream - 1/4 Cup
Vanilla Essence - 1 tsp
Baking Powder - 1 tsp
Custard Powder - 1 tbsp
Plain Flour/Maida - 1 cup
For Icing
Non Dairy Whipping Cream - 500 ml
Powdered Sugar - 1/4 cup
Other Ingredients
Sugar Syrup - equal amount of sugar & water
Kiwi - Sliced
Orange Segments - chopped
Pine Apple - chopped
Apple - chopped
Pomegranate -
Strawberry Sticks - to decorate
RECIPE STEPS:
For the sponge cake, start by heating up a pressure cooker with about 2 cups of salt making a thin layer of salt in the bottom of cooker. Then place a wire stand and a perforated plate. Cover and heat until ready with batter.
In a mixing bowl, add the butter and sugar. Mix and beat until its creamy, then add the condensed milk and beat for 2-3 minutes. Add the 1/4 cup cream/malai and mix for a minute.
Using a sifter, sift in the flour, baking powder and custard powder in. Mix well, and transfer the batter into a butter greased 7" cake tin.
Spread the batter and place the cake tin inside the pressure cooker, cover, remove the whistle and bake in low-med flame and check after 25 mins with a toothpick. If comes out clean, its ready otherwise bake for another 3-10 mins depends upon how much batter was stuck.
Take the cake out and let it cool for 10 mins, run a knife over the edges and take the cake out, let it cool to room temp over a wire rack or a plate.
For completing the cake : Whip the 500ml whipping cream using a whisk or a machine until soft peaks form. Add the 1/4 cup of powdered sugar and whip it to stiff peaks. Refrigerate until ready to use.
After the cake has been cooled, keep it in a turn table or place a plate over a bowl and keep the cake on it. Trim the brown spots of the cake as well as remove the dark spots from the circumference. Level the cake from top as well using a serrated knife.
Make three layers out of this cake using a long serrated knife. For making even layers, you can place toothpicks in the cake and mark how thick you want your layer and also have something you place your knife on to make a even layer. Keep aside.
Take a little bit of the cream and apply a blob over your turn table and place the bottom most layer of your cake. Sprinkle some sugar syrup.
Apply some cream over the cake using a long knife / spatula / palette knife. Place some fresh fruits and just apply a touch more cream then keep the second layer of cake and repeat.
After placing the third layer, sprinkle syrup and cream. Spread the cream over the top of the cake and the sides as well as shown in the video using a long knife / spatula. Remove excess cream and freeze for 30 mins.
Now for the final icing of the cake, apply cream as before by placing a huge dollop of it in top, spread it using a long knife and then take little cream at a time and cover the sides. Make the cream even and remove the excess as shown..
Decorate as you wish, I did mine using strawberry wafers and fresh fruits.. Refrigerate for atleast 4 hours before serving.. ENJOY!