Gulab Jamun Recipe | Traditional Desi Style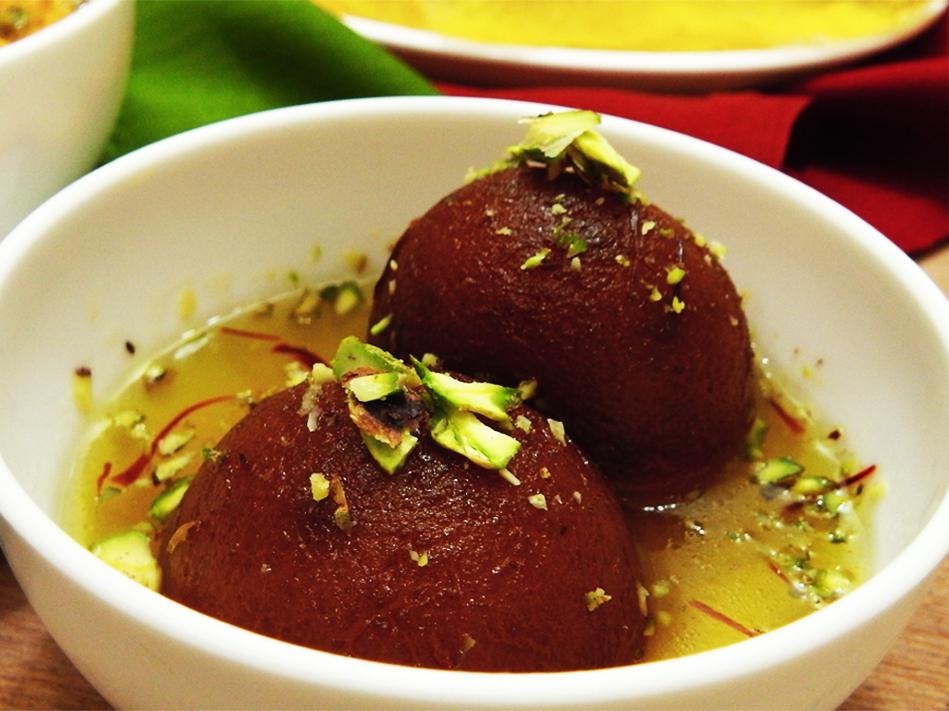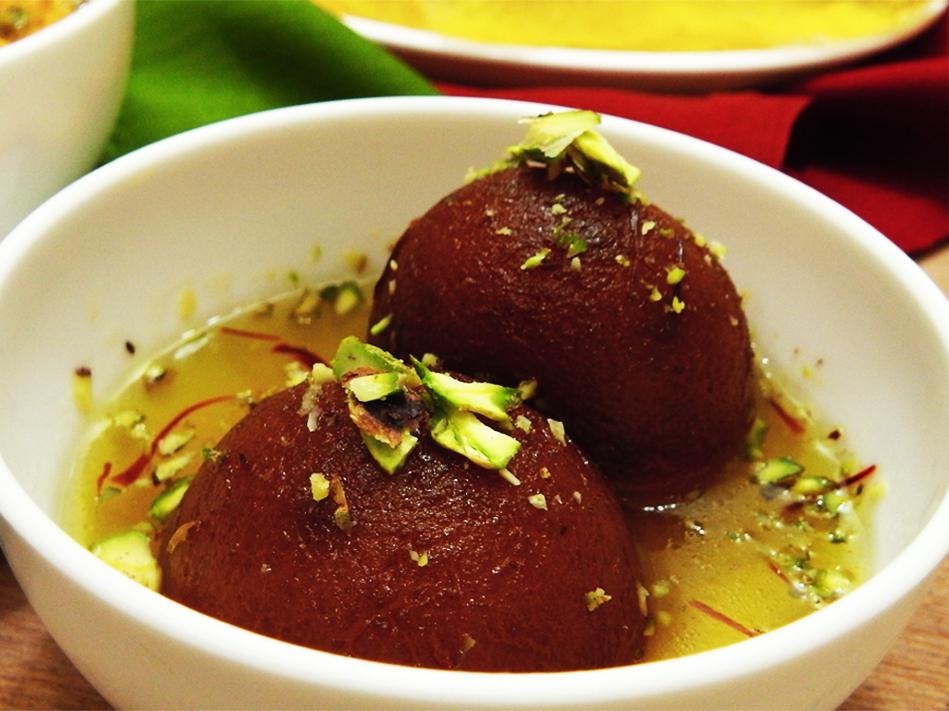 Gulab Jamun Recipe | Traditional Desi Style
INGREDIENTS:
Mawa - 90 gm
Chena - 20 gm
Maida - 1 tbsp
Baking Powder - a pinch
Cardamom - 4 - 5
Pistachio - for stuffing & garnishing
Rose Water - 1 tbsp
Saffron - a few strands
Sugar - 1 1/2 cup
Ghee - to fry
Water - 1 1/2 cup
RECIPE STEPS:
For Sugar Syrup
Add 1 and half cups of water and 1 and half cups of sugar to a big pot. Mix it well, bring it to a roaring boil. Test by dropping one drop of syrup to a bowl of cold water. If the syrup mixes with water after sinking, its ready! We do not require any thread consistency.
Keep aside and add some crushed cardamom pods and saffron strands to it.
Knead chenna until well combined. Keep aside. Knead khoya until smooth and soft.
Mix chenna and khoya. Knead for 2 minutes. Add maida and baking powder to the mixture and fold it all together for completely soft dough. If your dough seems a bit dry, add a tsp. of water/milk to it.
Make filling for Gulab Jamun: one tsp. of cardamom, few strands of saffron, and 1 tbsp. of pistachio. All mixed together.
Make 6 portions out of the mixture by stuffing a bit of the stuffing we prepared.
Heat up ghee. Turn off the gas. Ghee should not be hot. It should just be warm. Slowly, add the balls and let them sink into the ghee. Once it rises, start stirring slowly, creating round turns into the pan so that the balls move and get the color and fried from all sides.
Once, the Gulab Jamuns are of the color you had been searching for, transfer it to the warm enough sugar syrup.
Top the bowl of soft gulab jamuns with some rose water. Let it be in syrup for 4-5 hours. I prefer to eat the next day!
Serve hot by heating in a microwave or in a stove top. Garnish with pistachios and saffron strands.
RECIPE NOTES :
Sugar syrup should be warm enough while adding the fried balls.<br/>Use homemade chenna and mawa for better results.<br/>Baking powder is a finger dash.<br/>Dough should be soft and smooth. Use Milk/Water to make it soft if its stiff.<br/>For frying, I would suggest a saucepan as shown in video.<br/>Make sure ghee has to be warm when balls are added. And you need to fry them in very low flame. Otherwise they will be raw from inside! It will take 8-15 mins to fry one batch.<br/>Continuously stir the ghee to ensure great color. <br/>Soak gulab jamun in syrup for atleast 4 hours before serving. Taste great next day bdw!