Tandoori Paneer Tikka Pizza Recipe - Made in Gas Tandoor/Eggless Baking Without Oven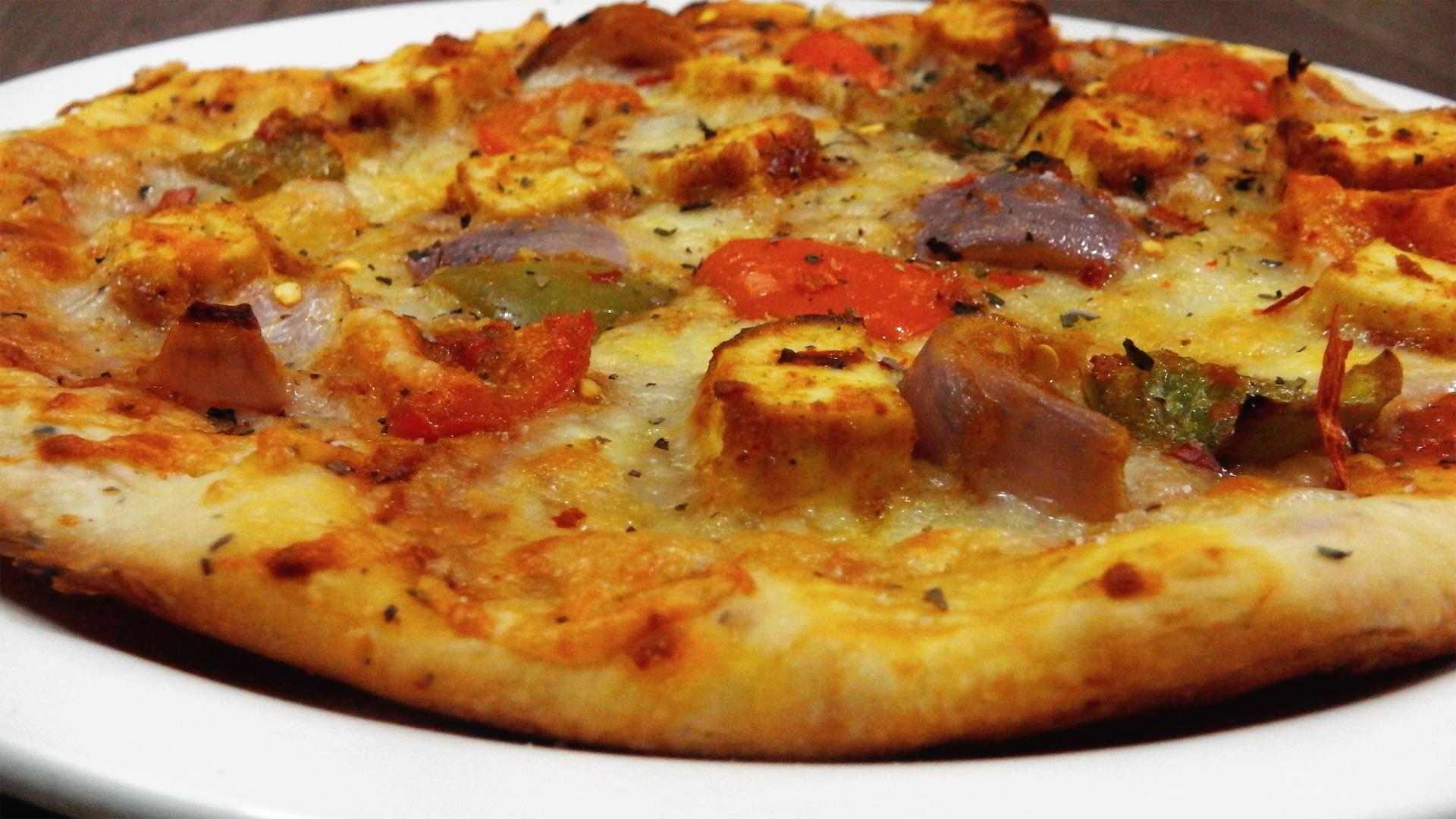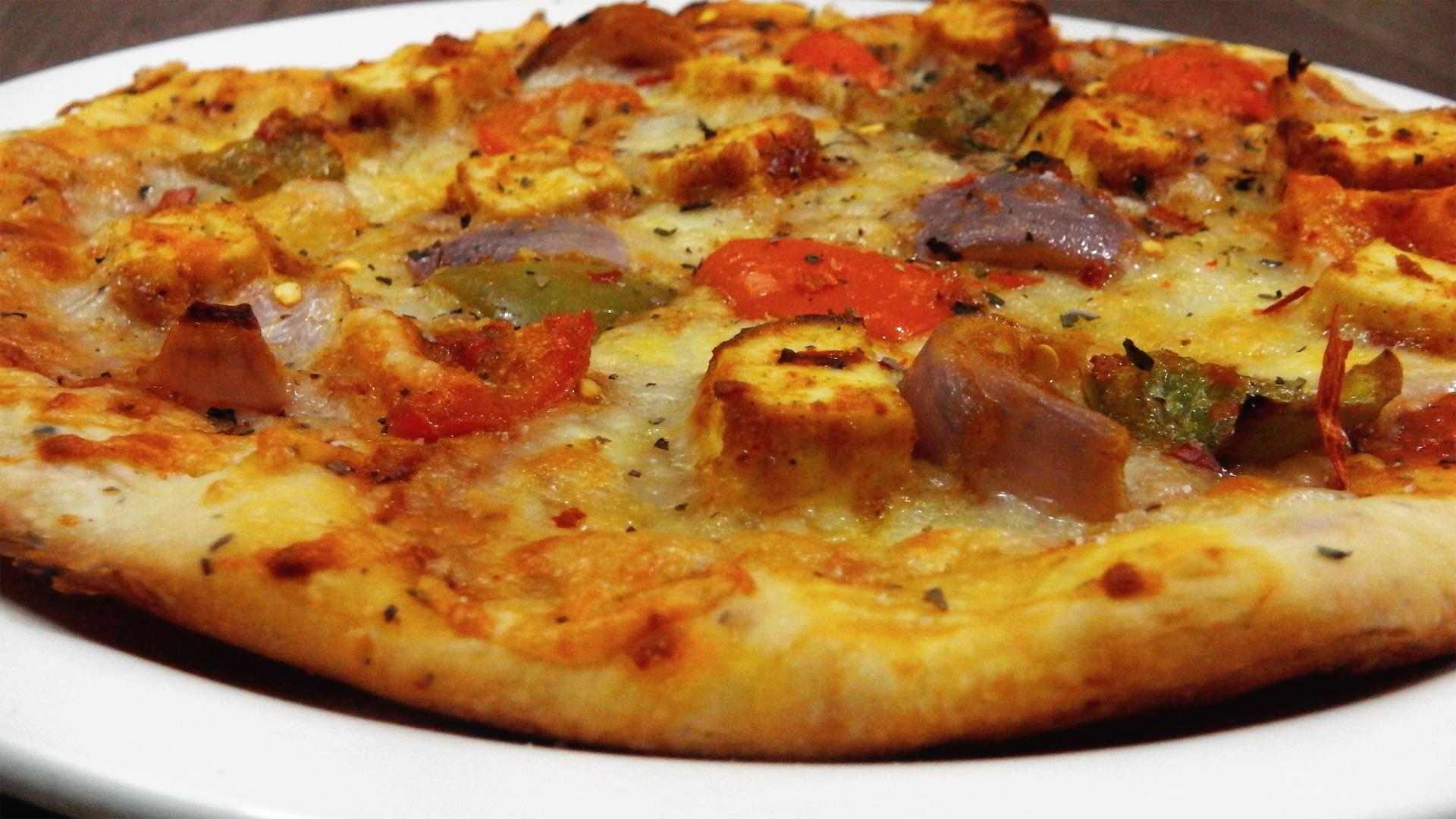 Tandoori Paneer Tikka Pizza Recipe - Made in Gas Tandoor/Eggless Baking Without Oven
INGREDIENTS:
Plain Flour - 1 cup
Salt - To taste
Sugar - 1/4 tsp
Instant Yeast - 1/2 tsp
Herbs - 1/2 tsp (optional)
Olive Oil - 2 tbsp
Warm Water - 1/2 cup
For Tikka
Paneer - 1/2 cup (cubed)
Veggies - 1/2 cup (cup)
Curd - 3 tbsp
Tikka Masala - roasted besan/sattu - 2 tsp/ chili flakes - 1/2 tsp/ kashmiri red chili powder - 1/2 tsp; garam masala - 1/4 tsp; salt to taste)
Mustard Oil - 1 tbsp
Other ingredients
Proofed Dough -
Plain Flour - 1/4 cup (dusting)
Pizza Sauce - 3 - 4 tbsp
Paneer Tikka -
Olive Oil - 1 tbsp
Mozzarella Cheese - 1/2 cup
Mixed Herbs - as desired
Salt - To taste
RECIPE STEPS:
For Pizza Dough
In a bowl, add the warm water followed by sugar and yeast. Mix well and keep aside in a warm spot for 10 minutes.
In a kneading plate/bowl add the flour, salt, herbs and add the proved yeast mix and make a sticky soft dough.
Add the oil and knead for 2 minutes. Transfer to a bowl, cover with a damp towel and let it prove for one hour in a warm place.
For Tikka
In a mixing bowl, add the tikka masala and enough curd to make a thick paste.
Heat the mustard oil till smoky and add that in the marinate. Stir well and add the paneer and veggies, coat gently and keep aside for 30 minutes.
Heat a gas tandoor in medium-high flame for 10 minutes.
Skewer the paneer and veggies in the wooden skewers. Place the skewers in the tandoor and quickly close, tandoorify them for 6-7 mins turning every 2 minutes in high flame.
For completing pizza: Heat the tandoor with a tawa(without any plastic/wood thingy), or a pizza stone for 10 minutes.
Punch and Knock the dough and transfer to a flour dusted platform and knead for a minute. Now roll this using a rolling pin dusting flour to prevent sticking.
Take the tawa out and add 2 tbsp of oil to the hot tawa. Followed by the rolled pizza dough. Press and fit to the size of the tawa if you wish. Prick it with a fork.
Add the sauce and spread well. Add the cheese, and the paneer tikka.
Smear a few drops of oil over also, spread oil on the edges of the pizza..
Place the tawa in the tandoor and cook until done, takes about 10 minutes in high flame.
Sprinkle over your favorite herbs enjoy!